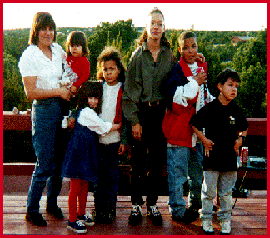 This is part of my family on the deck at my mom's house in New Mexico in the late 1990s.
That's my sister Alicia holding her daughter Katie. Next to her are Katie's sister, Molly, who is hugging my other niece, Sarah. My daughter, Tania, has her arm around my nephew Elijah, and that's my nephew Dennis -- the one with the attitude.
My sisters, Lisa and Lilli, me, and my brother, Stefan, in 1968.